Daoist Medicine , mostly known as TCM or Traditional Chinese Medicine, is a system that I personally view as Classical Chinese Medicine. In this differentiation, I take look back on the body of work before Mao took over in the early 1950s. After the Mao era began the resulting classification as TCM was initiated. Both Classical and TCM traditions base themselves in the philosophy of the relationship of Nature and human beings, observing that humans are part of Nature and not separate.
TCM (Traditional Chinese Medicine) vs Daoyi (Taoist Medicine)
Chinese Medicine is rooted in Daoism (Taoism in Wade Giles), therefore I will reference it as Daoist Medicine. As one of the world's oldest philosophies, Daoism has a long
and full history, which goes back thousands of years. In that span of time, Daoism has left it's influence within Chinese Medicine.
Traditional Chinese Medicine (TCM) originates from practitioners of Daoist Medicine. TCM is taught how Mao envisioned his band of "Barefoot Doctors" should administer healthcare to the masses. However, it bears little resemblance to the spiritually based, enigmatic and energetic root of it's Mother, Taoist Medicine.  In the practice of Daoist Medicine, all levels of awareness are observed and treated:
• Jing – which makes up the physical being.
• Qi – which animates the physicality of the being while manifesting the emotional being.
• Shen – which is refined Qi and comprises the spiritual and mental being.
Form vs Formless
Here we can break that down to treating the body that is form by using principles which treat the formless. The Daoist Medicine practitioner is then treating the whole being, physical, emotional and spiritual.
Daoist Medicine gives weight to what is classified in Western interpretation as a psycho-somatic cause of a particular disease.
The practitioner of Daoist Medicine gives importance to the principal that altering a thought pattern, thus also changing behavior, leads to impact the patient's state of health or illness proactively. In other words, work on the issue that is the root cause of a disease, rather than the symptom, and the illness is more likely to be resolved.
Yin vs Yang
Fundamental principles of Yin and Yang, the two basic complementary energies of the manifest universe are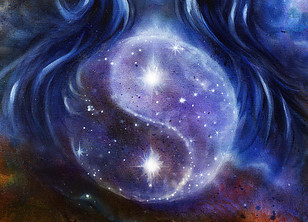 vital when studying Daoist Medicine. This philosophy states that everything that the Universe manifested, is made up of a unique blend of the two forces of Yin and Yang. Yin is dense and still. Yang is ethereal and active.
A healthy body has a balance of yin and yang in each of it's 5 phases. This balance expresses itself in many ways, but the most basic is the way that Qi (life force energy) either flows and nurtures, or stagnates in a pool and promotes disease and pain.
Two vital substances in our body, Qi and blood, are Yang and Yin in respect to each other. The nature of Blood is Yin. It is liquid, flowing, nurturing and has substance. Qi's nature is Yang. It is active, energy, and ethereal. These two substances work with each other in synergy to balance our system.
Yin and Yang interact in the universe as opposing forces that work to create harmony. This teaches us that an opposing aspect doesn't mean an enemy force.
Five Elements vs Five Phases
The Five Phase theory in Daoyi differentiates this dynamic into stages of existence. Each phase depicts a season as well as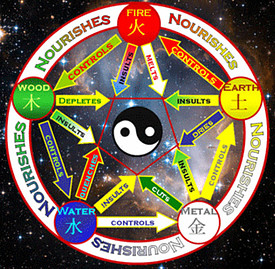 a phase in life, birth, growth, maturation, death, and rebirth. Movement through each phase reflects seasonal change as well as growth and demise. The 5 cycles are repeated and expressed in every aspect of the manifest universe.
Five Elements, in Daoist Medicine, are metaphors for the processes of nature. A more accurate title is "Five Phases". This applies whether it be the cosmos, the earth or our own vehicle, our body.
So why did the Daoist thinkers choose these five symbols? Wouldn't Air be a more fundamental element of the Universe than Wood and Metal? These ancient thinkers viewed Air as Qi. They equated breath with the energy of Qi. Therefore, to depict the behavior of Qi, and it's energy, they chose the elements of wood and metal.
Nature as Daoist Medicine
Water flows down the terrain where it nurtures all plant species, depicted as the Wood element. Here they grow upwards towards the Sun (Fire), The sun eventually dries them and turns the plants into Earth from either their dried mass or ashes.
Over time, bacteria and fungi in this new soil changes the compost into life supporting minerals. Slowly it is compressed into stone, and crystallizes into palatable mineral deposits, depicted as the Metal element.
These minerals are then taken into the earths waterways by rainfall and absorbed into water, imbuing it with nutrients. This enriched water is then absorbed by plants, the Wood element and the entire cycle begins once more.
Five Phases as Energy Cycles
Here, we see the 5 Phases are representing energy cycles.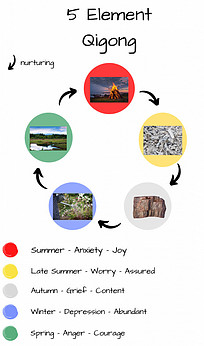 Winter's element is water. All Nature moves down and inward as hibernation time has come. The days are at their shortest, Yin is full. Nature conserves its energy in this Yin season.
Any seeds from the fall harvest time stay hidden in the soil, awaiting the moment of awakening. As part of Nature, we might look at this season as a time to do less and conserve our energy.
Spring brings wood to life! Seeds open and life moves through the soil. The plant kingdom then pushes through the ground to reach for nourishing light. An expansion of energy moves up and out. The world is fresh with the celebration of life! This is the time to begin new projects.
Fire ~ Radiating full potential
Summer, represented by Fire, reveals that nature is alive and active! The days are long and filled with Light, Yang is at its fullest. Nature matures and its fruit ripens. Nature also recognizes that there is a subtle shift as the days, though abundant now with Light, are beginning to get shorter.
Earth element's season is at the end of summer. Nature is stable. The weather is fair and the food is harvested. Peace and contentment abound. There are no worries and the preparations begin for transition time.
In the time of Autumn, the season of metal, nature starts it's cool-down. Trees let go of their leaves to teach us to let go of things when you are finished with them.
The animal kingdom stores food to account for winter time. Here, life begins to withdraw, and concentrate, keeping only what is necessary for survival. Everything else is released.
In Conclusion
Taoist Medicine is full of metaphors depicting Nature. We can use those examples to keep our bodies, our physical vehicles, balanced so that we stay well. These bodies we inhabit are our vehicle to experience life and love. In addition, our body is our vehicle used to awaken to our purpose. Consider this the next time you are feeling out of balance.