The reason you would want to know how to improve balance and symmetry, is because they are required for your optimum health. Collapsed posture impedes this ultimate goal. With the increased use of technology in the last generation, and heightened during the pandemic, we observe how this increased use has affected posture.
Collapsed Posture
Laptop and especially smart phone use has increased. Watch someone while standing or walking down the street while they are texting. See the shoulders rolled forward? The neck is extended out and the head tilted down. If the person is also walking the stride is shortened and erratic. This is then repeated many times per day. While performing this action, the posture is temporarily collapsed.
What is the response to this collapsed posture? The tissue surrounding the muscle fibers, tendons and ultimately attaching to the bones in the joints is called fascia. The fascia or connective tissue, is a pliable collagen based tissue with an oily fluid to keep it flexible. This fascia also has its own nerves called fibroblasts. Fascia responds to trauma, and to posture positions held for extended periods of time, by thickening and becoming less pliable. The fascia gives support to the new posture or rolled forward shoulders, extended neck, head looking down, and hips having less rotation.
We now have a new human posture. It supports the function of texting and computer work, but makes it more difficult to move through space with ease. When exercise is attempted, pain signals are sent to the brain, because the connective tissue is so dense at the attachments, moving becomes more difficult.
Fascia Thickening Affects Balance And Symmetry
How does the thickening of fascia affect balance? In the example above where the person is texting while walking we observe the neck extended and the head looking down. The center of gravity has changed. Our head, on average, weighs 11 to 12 pounds or 4 – 5 kg. The 7 cervical vertebrae in our necks are the support system. If your head is forward and looking down just one inch, about a 15 degree tilt forward, the gravitational strain on these vertebrae more than doubles to about 27 pounds.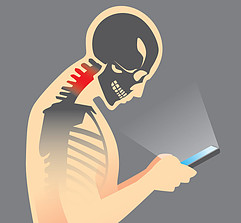 The person in our example, fully into texting, has a 60 degree tilt and 60 pounds or gravitational strain! That's 5 times the weight of the head! The fascia's nerves, the fibroblasts, sense this as a trauma. They thicken all the attachments to compensate for the strain. If this issue happened once in a while, for a short time, the pattern would return to homeostasis, which is the normal healthy balanced state of being. Do it on a daily basis, several times a day and the pattern become entrenched.
This person will have a more difficult time turning the head and standing up straight. Pain will be a constant companion. We haven't even talked about the shoulders or hips yet. The same process is going on in the shoulders, where there is little structure at all! The shoulder basically just floats with only soft tissue holding it. Rolled forward shoulders has an even more immediate change in pattern than the neck, because of the lack of structure supporting it. Now this person not only has neck problems, but can no longer throw a ball to their dog or child and even placing a dish on the top shelf becomes a major chore! This person now has a balance issue as well, because the head and shoulders are forward, the center of gravity is off and falling becomes a regular issue. Serious injury ahead is a strong probability.
How To Improve Balance and Symmetry
If you have chronic pain, and you've gone to your doctor and they take Tylenol and rest or give you muscle relaxers, then you likely have fascia thickening, which I like to call bundling. In my clinic, I work on these problems every day. I smooth out and lengthen the fascia with a combination of vibration, manual tissue manipulation with my fingers, traction and light stretching.
There are things you can do on your own, without going to someone like me. The fascia is bundled up. Because its thickened at the joint attachment, (that same tissue is what surrounds the muscle and tendon, and every muscle fiber), the muscle is now shortened, or feels like it is. we need to lengthen the fascia, communicate with it and show it where homeostasis is. Overstretching can actually make it worse. The stretches to do are at the first edge, where you just barely start to feel the stretch.
If the problem is in the shoulders or you feel pain or tension mid to upper back, roll up a towel into a fairly tight cylinder, Place it on the floor and lay on it so it is perpendicular to the spine at the bottom of your shoulder blades or scapula, where a bra-strap might be. Lay on it 3 minutes with your arms out, elbows bent palms up and fingers pointing above your head. I like to call this cactus arms. It takes 3 minutes for the fascia to adjust to this new position. I refer to it as rebooting the fibroblasts. It's like tuning your computer off, then back on. It dumps the old data and starts fresh.
For you to find relief for your neck is a little more difficult. However, there is a product that is easy to use and fairly reasonably priced called a neck hammock. Follow the instructions. Use the "Neck Hammock" 10 minutes a day to reset all those hours of computer work. You will be happy you did!
Hip Issues
Hip issues are more complex. There is a couple of safe passive stretches you can try, Legs up the wall is relieving for the low back, and tight hamstrings, which can affect the hips.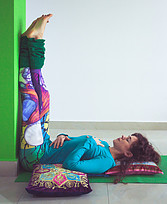 Another safe passive stretch is a one legged twist. 2.5 minutes here will relieve upper gluteal region pain and hip tightness.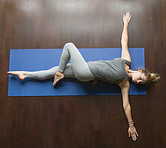 Conclusion
This information is meant to be informative and not diagnostic. If you have chronic pain, check in with your doctor before trying anything I have recommended here. Sharp pain is not acceptable in any of the modalities I have offered, stop immediately and take a stroll. Are you still hurting after the modalities? Check in with your doctor.
Fascia issues are prevalent. I hope this article has improved your awareness.
Be well, and to your optimum health!
Al Perry