Red Light Therapy is a new tool for me in my healing practice. I've been watching for independent clinical studies to come out to support the use of Red Light Therapy, In the last year there have been many breakthroughs, in part, because the LED technology required to penetrate the tissue deep enough to be effective has advanced and become less costly to produce.
Between the technology improving and corroborative evidence showing symptomatic relief and improvement in muscle pain as well as common skin and scalp issues, more clinicians have adopted Red Light Therapy as a treatment option.
Red Light Therapy? What is it and how does it work?
It's all about energy. What do I mean?
If we could shrink down to the size of a single cell, we would see how our body, and everything else, works from this new perspective. Inside this single cell, we would see the biological power plant of this cell. This little power plant is an organelle (literally meaning "little organ") called a Mitochondrion. We know this better as Mitochondria, which is plural.
This tiny bit of a cell produces the organic chemical adenosine triphosphate or ATP. The purpose of ATP is to animate the cell, supplying its energy.
I won't bore you with the whole process. However, the identical amount of our full body weight of ATP is generated every day by the cells in our body. ATP is what makes out muscles work, including our heart. The ATP also supplies power for our nerves to fire. It even helps our brain to function. Basically, if your body isn't continuously producing ATP, you're not alive.
What's this got to do with Red Light? It's long been known that there is a relationship with sunlight and the production of ATP. It turns out that the near Infrared light (NIR) spectrum of 630 -660nm (nm is Nano-meters) stimulates the mitochondria to produce ATP.
Why is this significant?
If a cell is damaged or aged, the added ATP helps the cell repair itself. Multiply that by the millions of cells in an area that has experienced trauma, and perhaps you can get relief from the pain that trauma produced!
My Personal Experience
After reading the studies, I researched various manufacturers of Red Light Therapy devices. I like to look at reviews, to see
what other folks experiences were. The next thing I measure is cost. The best mixture of excellent reviews and price point went to the company LifePro. I ordered a wand, called the LumiCure Torchlight. It cost me $120, minus a penny.
I received my device quickly, and then un-boxed it, read the easy instructions and then put it to work. I dropped a huge rock on my right foot 20 years ago, breaking two toes. No treatment was applied,  but they healed, sort of, on their own. In the last year or so they have been giving me problems, with swelling. They are deformed, at best numb and at worst quite painful. I did two minutes of the Red Light Therapy on each toe, putting the device right up to the inflamed knuckle.
I noticed some improvement after that first treatment but thought it might be psychosomatic. An hour later I used it again, and then one more time the next morning. My toe is now 90% better! I don't feel any pain through the day at all, and I walk a fair amount of steps each day.
Other Red Light Devices
The wand I purchased isn't the only Red Light Therapy device that Life Pro has available. There are two additional devices.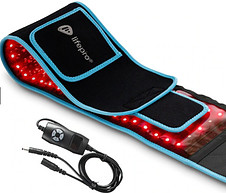 The AllevaRed Light Therapy Belt and the VizaCure Led Skin Mask.
The AllevaRed Light Therapy Belt is a series of Red Light LEDs in rows on a belt that can be wrapped around the waist for low back pain, or around an arm or a leg. While I have not used this device, it is the same technology as the device I use so I assume it works as well.
The VizaCure LED Skin Mask is a face shield embedded with light filaments to emit the red light to your face. This is for age spots, sagging skin and pigmentation issues. Again, I have not tried this product. My advice to you, is to click on the link, read the reviews and see if it's something you'd like to invest in. The device that I have works for me. With that, I can only assume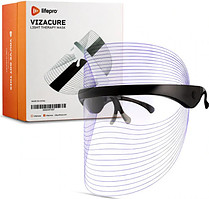 that the rest of their products work as well.
Conclusion
Red Light Therapy is a new addition to my treatment toolbox. In a small sampling size, I am very pleased with what I have experienced in both my own personal treatments and my clients.
The science supports the usage, as the independent studies show. I am confident in recommending this product for pain such as arthritis and muscle issues. As always, get checked by your doctor first, to assess the seriousness of your injury and advise to use the Red Light Therapy for treatment.
Please let me know your experiences if you choose to get the device.