Here we will explore the research of the the connection between fascia and chronic pain. This article is relatively technical with scientific language references. I've attempted to reference, in parentheses, what most of the terms mean. For a less technical article read here.
What is Fascia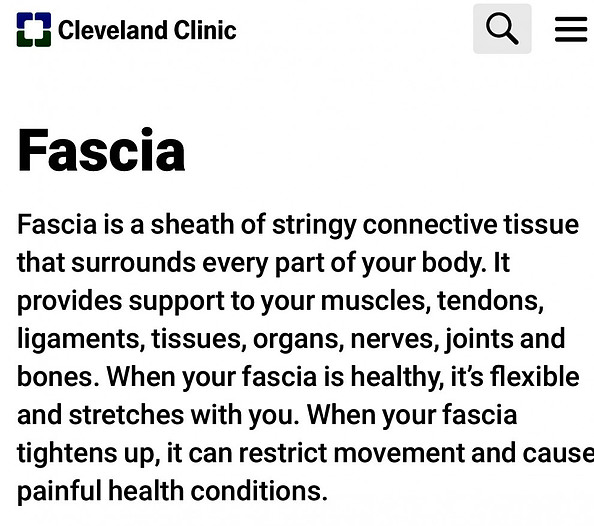 Fibroblasts Role in Fascia and Our Body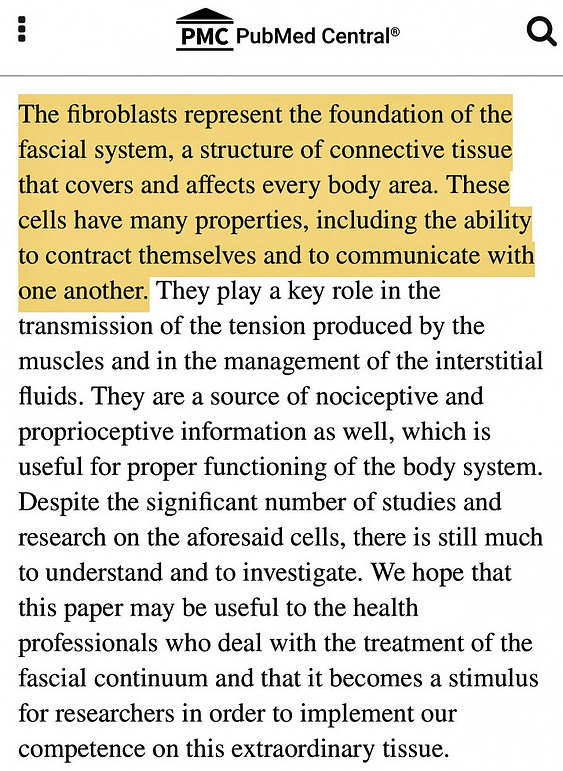 What is the connection between fascia and chronic pain?
The connection between fascia and chronic pain is a topic of ongoing research and exploration. Fascia is a type of connective tissue that surrounds and interconnects various structures in the body, including muscles, bones, nerves, and organs. It plays a role in providing support, stability, and flexibility to the body. There are several ways in which fascia may be related to chronic pain:
Fascial restrictions: Fascia can become tight or restricted due to various factors such as trauma, inflammation, surgery, or repetitive stress. These restrictions can result in pain, limited mobility, and altered biomechanics.
Trigger points: Fascia can develop areas of increased sensitivity known as trigger points. These are localized knots or tight bands of muscle fibers within the fascia that may cause referred pain in other body areas. 
Nerve entrapment: Fascial restrictions or adhesions can potentially compress or entrap a nerve, leading to chronic pain conditions such as nerve impingements or neuropathies.
Altered sensory perception: Fascia contains a high concentration of sensory receptors called mechanoreceptors. Changes in the fascial tissue can potentially affect sensory input and perception, leading to altered pain signaling.
Inflammation and immune response: Inflammatory processes within the fascia can contribute to chronic pain conditions. Chronic inflammation can sensitize nerves and amplify pain signals. It's important to note that while fascia is being studied as a potential contributor to chronic pain, it is not the sole determinant.
Chronic pain is a complex and multifaceted phenomenon involving various factors, including but not limited to neurological, musculoskeletal, and psychological aspects. If you are experiencing chronic pain, seeking medical attention from a healthcare professional who can conduct a thorough evaluation, provide an accurate diagnosis, and offer appropriate treatment options based on your specific condition is recommended.
Fibroblast and Fibrocytes
Fibroblasts have two states; the active Fibroblast is a cell that spins the web of collagen fibers that make up our fascia. The Fibroblast changes into the dormant Fibrocyte, which is helpful in the wound healing process but limits the elasticity of the fascia in everyday activities. This can cause stiffness and pain.
The transition from fibroblast to fibrocyte involves changes in cell morphology, gene expression, and secretory profile. Fibrocytes are characterized by reduced synthetic activity and a more elongated appearance than fibroblasts. They have a reduced capacity for fascia production and remodeling but contribute to wound healing by secreting factors that modulate the inflammatory response and promote tissue remodeling.
Trauma's Influence on Fibroblasts and Fibrocytes
Trauma or injury triggers fibroblasts to transition into a fibrocyte state. During the inflammatory phase of wound healing, various immune cells, such as macrophages, release cytokines (Cytokines are a broad and loose category of small proteins important in cell signaling) and growth factors that initiate the repair process. These signaling molecules, including transforming growth factor-beta (TGF-β), platelet-derived growth factor (PDGF), and interleukins (a group of related proteins made by leukocytes (white blood cells), play a crucial role in activating fibroblasts and directing their behavior.
Fibroblasts at the injury site activate when tissue damage occurs and undergo phenotypic changes. They increase their synthetic activity, proliferate, and migrate to the wound site to contribute to the healing process. However, the need for intense fascia synthesis decreases as the wound progresses from the inflammatory phase to the proliferative and remodeling phases. At this stage, fibroblasts transition into a fibrocyte state.
Therefore, trauma can stimulate fibroblasts to undergo phenotypic changes and enter into a fibrocyte state as part of the normal wound-healing process. Various factors influence this transition, including the wound microenvironment's cytokine and growth factor milieu.
Can The Fibrocytes Transition Back To Their Active Fibroblast State?
Fibrocytes have the ability to transition back into the fibroblast state after an injury site has healed. While fibrocytes are considered a more mature and quiescent form of fibroblasts, they retain the capacity to revert to a fibroblast phenotype under certain conditions.
Fibrocyte-to-fibroblast transition is often referred to as fibrocyte activation or fibrocyte-to-myofibroblast differentiation. Various stimuli, such as mechanical tension, growth factors, and inflammatory mediators, can trigger it. Factors like TGF-β, PDGF, and connective tissue growth factor (CTGF) are known to play crucial roles in this transition.
When the wound healing process is complete and the tissue has undergone sufficient remodeling, the need for fibrocytes to actively contribute to repair diminishes, and fibrocytes can then be reactivated. The reactivation process involves phenotypic changes, including increased synthetic activity, enhanced contractile properties, and a return to a more fibroblast-like morphology.
The ability of fibrocytes to transition back to the fibroblast state highlights the dynamic nature of these cells and their role in tissue homeostasis and repair. They can adapt their phenotype based on the local microenvironment and tissue demands, enabling them to participate in ongoing repair processes if necessary.
Components of the fascia are produced intracellularly by resident cells and secreted into the fascia via exocytosis (Exocytosis is where cells shift materials, such as waste products, from inside the cell to the extracellular space)
Once secreted, they then aggregate with the existing matrix. The fascia is composed of an interlocking mesh of fibrous proteins. The dominant fibrous fascia proteins are collagens and elastins, which comprise the facia's significant components.
Is Taking Collagen As A Dietary Supplement Effective To Help Chronic Pain?
There is research available specifically investigating the effects of dietary supplementation with types I, II, and III collagen on the transition of fibrocytes back to their fibroblast state after trauma. Collagen is a key extracellular matrix component and plays a crucial role in tissue repair. Numerous studies have explored the importance of collagen in various aspects of tissue healing and regeneration. Here are a few key points supported by research:
Structural support: Collagen provides structural integrity to tissues, such as skin, tendons, ligaments, and bones. It forms a network of fibers that contribute to these tissues' strength, flexibility, and resilience.
Wound healing: During the wound healing process, collagen plays a vital role in all phases—hemostasis, inflammation, proliferation, and remodeling. After the injury, platelets and fibroblasts are activated, leading to the deposition and organization of collagen fibers. Collagen acts as a scaffold for cellular migration, supports tissue regeneration, and contributes to wound closure.
Scar formation: Collagen is a major component of scars formed during tissue repair. Excessive or abnormal collagen production can result in hypertrophic or keloid scars, where collagen fibers are densely packed and oriented in a disorganized manner.
Cell signaling and regulation: Collagen interacts with various cell surface receptors, such as integrins, discoidin domain receptors (DDRs), and glycoprotein VI (GPVI). These interactions can trigger intracellular signaling cascades, leading to cell adhesion, migration, proliferation, and differentiation, all essential for tissue repair processes.
Modulation of inflammation: Collagen fragments released during tissue damage can have immunomodulatory effects. They can stimulate the recruitment and activation of immune cells, regulate the production of inflammatory mediators, and influence the resolution of inflammation.
In Conclusion
Many studies in cell biology, tissue engineering, wound healing, and regenerative medicine support these points. Collagen's significance in tissue repair has been extensively studied, and its role as a fundamental component of the ECM is well-established. Collagen can be introduced as a dietary supplement but will only be effective if cofactors are included to make it bioavailable and include all three types of collagen. Here is a product that meets these requirements.